When Luke and Trudy decided to get married, they dreamed of a large wedding with family and friends in Noosa, Queensland.
They made a booking for their ceremony at St Patrick's in Pomona, just inland from Noosa, and it was at this point that the parish priest recommended that they complete a Marriage Relationship Education course. Luke contacted CatholicCare Sydney and discovered there was the option of a group workshop offered online via Zoom, which was particularly important due to the growing concerns "around COVID. 
Both being of the Catholic faith, Luke and Trudy were happy to participate, however were unsure how useful the "Becoming One" marriage preparation course would be. What they found was that although it was often uncomfortable and at times even awkward, it forced them to look at the bigger picture of what married life might be like down the track. This ensured they had the necessary conversations so that they could make the commitment with open eyes and a greater understanding of each other's thoughts and feelings. 
"We were in our little love bubble so it was hard to imagine that one day there might be events that would cause conflict or stress on our relationship. You just don't naturally think about those things when you are not in that moment," said Luke. 

"The course helped us to consider certain scenarios and how we might react; it got us to think about our marriage after the wedding! We had to confess our weaknesses and discuss our strengths and that is not the sort of thing you typically would talk about. It was awkward at first, but then we got right into it, and we found that we would often continue those conversations outside of the 'classroom'.

"There was significant value in participating in the group course. Although the participants were instructed to mute themselves for their private couple chats, it was comforting to hear others return to speak openly and share their discussions with the broader group. You might not be so candid if you hadn't heard the others' comments and experiences. In the end, I think being online also helped with this. We didn't know them and they didn't know us, yet we felt it was a safe space and there was no judgement and lots of learnings," said Luke.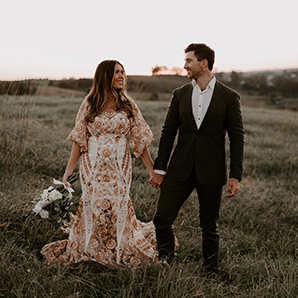 After completing the course, they were all set and ready to move forward with their wedding, however unfortunately COVID was once again on the rise and the risk that their wedding would be cancelled at the last minute was real. Instead, they settled on a civil ceremony and an intimate affair with their parents and siblings in the Byron Bay Hinterland. The location and day-night event turned out to be quite magical, but despite the joy they were feeling from being legally joined in marriage and from the love and well-wishes from their families, they were both disappointed that their marriage was not blessed by the Catholic Church. 
Through Luke's work with Australian Catholic Superannuation, Bishop Terry Brady became aware of their story and had offered to bless their marriage at Luke's family parish - St James, Forest Lodge, NSW, in July 2021, yet once again, due to COVID, it could not go ahead. Luke and Trudy now hope to arrange this for April 2022. 
But the story doesn't end there. Luke and Trudy have recently welcomed a baby boy into their lives and may make their April event a joint blessing and celebration including a baptism for baby Wilkie!
To find out more about CatholicCare's Marriage Relationship Education courses, which are also offered for married couples, please call 13 18 19 or contact us online.
---