In the spirit of reconciliation, CatholicCare Sydney acknowledges the Traditional Custodians of country throughout Australia and their connections to land, sea, and community. We pay our respects to their Elders past, present and emerging, and extend that respect to all Aboriginal and Torres Strait Islander people.
---
A message from the CEO
CatholicCare Sydney's vision is a society in which everyone is valued and supported. This is based on principles of dignity and inclusion. As CEO of one of Sydney's largest social services agencies, I have long reflected on the importance and lasting value of building strong connections with local Aboriginal and Torres Strait Islander communities and working in a culturally sensitive manner with First Nations clients and stakeholders.
Reconciliation is about strengthening relationships between Aboriginal and Torres Strait Islander peoples and non-Indigenous peoples, for the benefit of all Australians. While this is our first Reconciliation Action Plan, it is not the start of our reconciliation journey.
Our commitment in this RAP is reflective of who we are - an agency that values all people irrespective of age, culture, beliefs, and abilities. In that approach we are led by four guiding principles which include preserving human dignity, nurturing the common good, valuing subsidiarity and walking in solidarity with others.
Led by the executive, all staff across the organisation recognise the importance of committing to a meaningful reconciliation process, not as a separate activity, but integrated into the work we do each day with some of Sydney's most vulnerable people and communities.
Alastair McGibbon
Chief Executive Officer
CatholicCare Sydney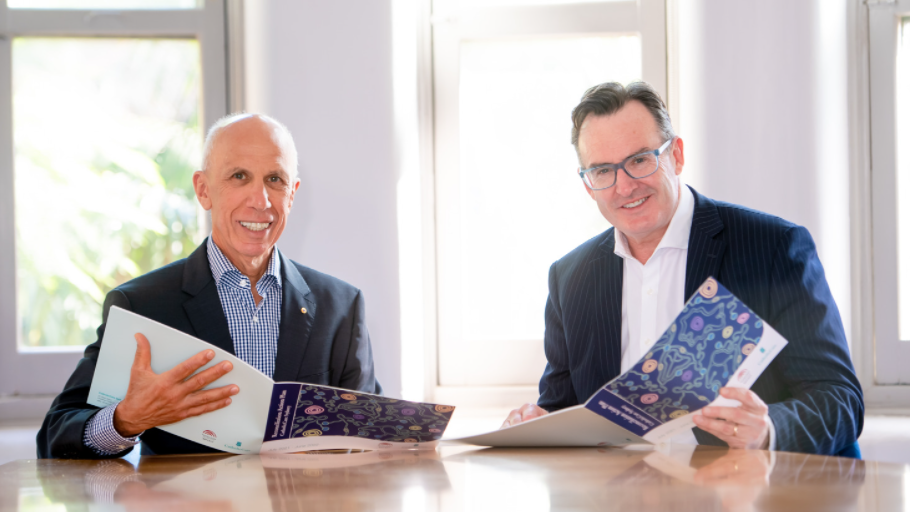 Chairman of the Board, Richard Haddock AO, with CEO, Alastair McGibbon.
---
Pathways to Care 
About the artwork
The lined patterns represent the pathways of Traditional Owners, who used them to travel across Country and share knowledge. These pathways also represent the channels that CatholicCare use to provide their services to people in need. The small blue circular patterns represent Traditional Owners watering holes, which provide essential health benefits, much like those provided by CatholicCare. The large coloured circular patterns represent Traditional Owners campsites, which provided places to meet, rest, recover and share knowledge. The nine campsites in the artwork represent the nine CatholicCare offices, which serve a similar purpose today to the campsites of Traditional Owners.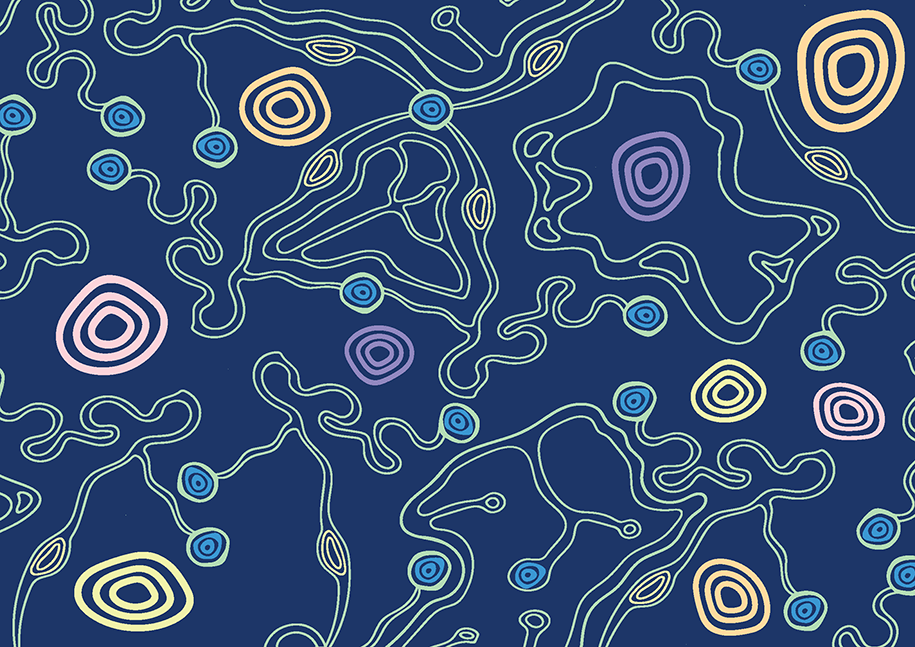 "Pathways to Care", designed by Dennis Golding, a descendent of the Kamilaroi / Gamillaraay people
About the Artist
Dennis Golding is a descendant of the Kamilaroi / Gamillaraay people from the northwest of New South Wales. He spent most of his childhood living in Redfern and now resides in the south east Sydney suburb of Little Bay. Dennis has a Bachelor of Fine Arts (Honours) degree from UNSW Art & Design.
---
Catholic Archdiocese of Sydney
The Catholic Archdiocese of Sydneyhas made a formal commitment to Aboriginal and Torres Strait Islander peoples reconciliation through Reconciliation Australia's Reflect Reconciliation Action program. Download the Archdiocesan ReflectReconciliation Action Plan. 
---