Last year, in the height of the COVID-19 pandemic, Angela joined a group of like-minded women, who wanted to do something to help people who may be feeling isolated and alone.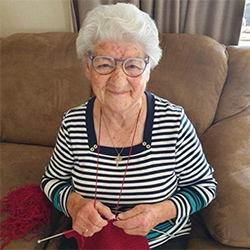 Their goal was to hand knit enough blankets to give one to every CatholicCare Home Care client. The idea behind the blankets was that they would offer a source of comfort and a little bit of extra joy to these clients' lives in the knowledge that someone was looking out for them. During this time, Angela connected with our Home Care team and shared her story and passion for knitting which continues to be a blessing.
Born in a small mountain village in Greece in 1932, Angela soon learnt the value behind hard work. Not able to afford outside help, she began shepherding on her family's sheep farm at an age that children in Australia would normally begin schooling.
Angela started knitting at eight years old, to help her family survive. Her mother taught her to spin yarn from the wool taken from the sheep to be knitted into blankets and jumpers. Little did she know, this task would be a constant source of enjoyment in her life. 
Immigrating to Australia in 1956, Angela began a career as a dressmaker in her new home country – spending her spare time making jumpers and blankets for people who needed some extra help.
"Mum never stops knitting and makes many jumpers for her great grandchildren. She also enjoys knitting the blankets for charity because she wants to help wherever she can. I'm sure she will continue to make them for as long as her hands allow her." Georgia, Angela's daughter.
If you or your community group would like to know how you can lend a helping hand like Angela, please contact us on 13 18 19, or make a donation today.
---
CatholicCare Home Care
Find out more about our home care services and how they can help you continue to live in your own home.
---